Turbo Santa DX22 (Amiga)
Turbo Santa DX22 Released!
---
UP ON THE HOUSETOP, DON'T YOU PAUSE.
IT'S TIME FOR TURBO, SANTA CLAUS!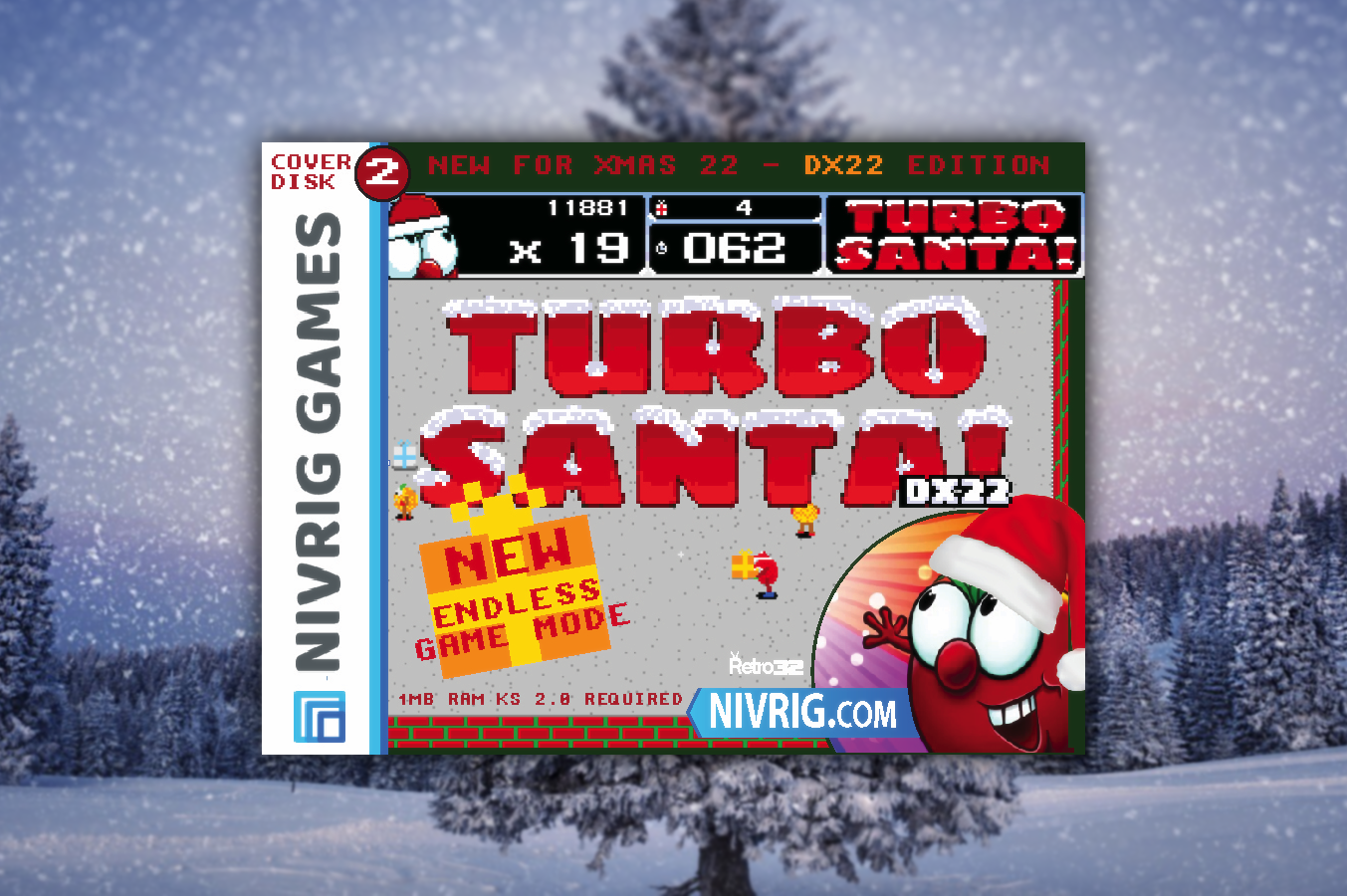 ANNOUNCING THE RELEASE AND IMMEDIATE AVAILABILITY OF TURBO SANTA DX22, an updated edition of the frantic arcade score-attack game for the Classic Amiga platform, based on 2021's hit game Turbo Tomato.
Santa slept in! Can you and deliver all his presents in the good-saint-Nick of turbo-time to save Christmas? Download Turbo Santa now and find out!
The new Director's Cut (DX) edition for 2022 has been rebalanced and features an all-new Endless Mode where the deliveries keep coming! How high can you get? Also watch out for new Golden Gifts that give extra points and bonuses for delivery.
To put the icing on the Christmas cake grab the fantastic 1990's magazine coverdisk-style label seen above, designed by Retro32.
For the competitive Santa, there is a high score competition, with prizes generously donated by Amiga Addict, Bitmap Soft, Geezer Games, and Retro32!
The best six Turbo Santa DX22 scores on ENDLESS MODE and in NORMAL difficulty submitted to https://retro.nivrig.com on or between 1st and 24th December 2022 (GMT) will be eligible to choose one of the following prizes:
Winners will be announced online after the competition closing date. Winners will be required to contact NIVRIG GAMES and provide the score code generated by the unmodified Turbo Santa game on or before 16th January 2023 (GMT) in order to claim a prize, so please remember to watch for the announcement and have your score codes safely recorded somewhere, somehow if you think you may win. Scores not claimed in this manner will be removed from the competition and the prizes reallocated accordingly.

Finally, for more high-speed Amiga Christmas action, check out Santa Rocks.
Merry Christmas!
Files
Turbo Santa DX22 1.1.0 (Amiga ADF Disk Image)
880 kB
63 days ago
Turbo Santa DX22 3.5" Floppy Disk Label
1 MB
63 days ago
Get Turbo Santa DX22 (Amiga)