Dodgy Rocks
Dodgy made its semi-public debut at the PlayMyDemo event hosted by NI Screen at the Pixel Mill indie workspace. PlayMyDemo is a chance for local (Northern Ireland) game developers to play other local in-development games and get feedback on their own. It's always useful and interesting

Thanks must go to Angie for organising, and Donal for laying on the beer and pizza!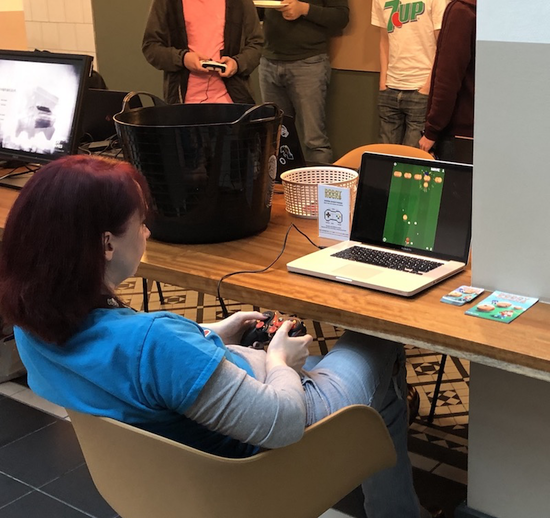 Dodgy Rocks in action at PlayMyDemo
Dodgy went down well, with players staying on for "one more go" resulting in 106 games played over the course of a couple of hours, and a new Nightmare high score of 107 set by Blackstaff Games. It was definitely the most retro title present ("it's such a throwback" - a compliment, I assumed), and I think the only one not made in Unity or Unreal.

Some points to consider from the event are:

A few UI bugs manifested when playing with a controller. These hung the game a couple of times, requiring a quit and restart.
Most players struggled to understand the cooldown timers on the kick and dash actions. I'll probably add a tutorial sequence, but the next point may affect the timers more radically as well.
A few players suggested adding a combo system for kick/dash scoring. I do like this idea. These actions were originally added as emergency means to get out of trouble, hence the longish cooldown periods, but have since become part of the scoring system, and adding a combo system would of course embed them in the scoring further. I would need to rethink the timers to strike a balance between enabling satisfying combos and avoiding spamming kick/dash to avoid getting hit.
Thinking face on.